Using Mobile Devices
MEDIAL has a customized look and feel when you use it from an Apple iPhone, iPod Touch, Android, or BlackBerry device. If guest access is enabled, visiting the site shows a list of available clips. If guest access is disabled, you see a log-in screen.
The home screen displays Most Played, Latest Added, and Random video selections: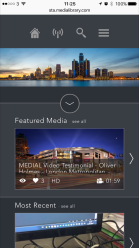 Click the magnifying glass icon at the top to open a search box where you can enter keywords that match media uploads. On the results page, refine the search by using the drop-down boxes to select a category, the Latest Added, or the Most Played content.
The criteria you can search on are contributor, title of clip, tags, description keywords, playlist name, and chapter point names.
Uploading from iOS
To upload from an iOS device, you must be logged onto the site with an account that has upload permission for at least one category.
On the next screen choose a file to upload by click Browse. You can upload an existing video or use the device camera to shoot a new clip. Video with audio and video-only uploads are allowed.

Orientation will be corrected when the clip is uploaded, but any change of orientation that occurs during recording will remain.

Once the clip has been uploaded click Next and provide details for the clip. The Title, Category, Description, and Email fields are mandatory.

If you are a MEDIAL administrator, you have the option to set the video as featured, where it will show in the carousel on the main site.

Add tags to the clip to help viewers find the clip through search criteria. If there is a disclaimer check the box to agree to it. Click Next.