Using Playlists
Playlists are optional features that may not be available to you depending on the features chosen by the by the MEDIAL administrator. When playlists are enabled, you can add media to a playlist from the media playback page.
Creating Playlists
To create a new playlist, click Playlist on the playback page for a clip, enter the title for the new playlist, and click Create.
Adding Content to a Playlist
To add the clip or chapter point currently being viewed to an existing or new playlist, click the name of the playlist.
Managing Playlists
You can view and manage your MEDIAL playlists by clicking the My Account button at the top of the screen after you have logged in:

Next, choose My Playlists: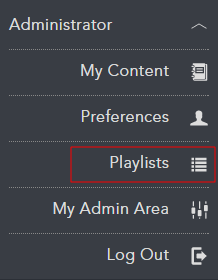 Viewing Playlists
You can edit playlists to enter additional information or delete clips from the playlist.
Tip: <![CDATA[ ]]>To remove a playlist, check the box and click below to delete it.
Playing Clips
To view a playlist, click on the double up arrows in the bottom corner of the browser.

Click on the Current Playlist selection box to expand it and display the playlists that are available. Select the playlist and the clips within it in the playlist bar.
The bar shows thumbnails for each of the clips that have been added.
To play a clip, click on the thumbnail.
Use the double arrows next to the current playlist to navigate through the clips.
Use the arrows at either end of the playlist to move one clip forward or backward at a time.
Delete clips from the playlist by clicking the red cross in the top right-hand corner of the thumbnail.
Re-order clips in the playlist by dragging and dropping them.