Navigating the Site
The MEDIAL home page displays the coverflow of the latest media and the most frequently played clips. The left side of the screen lists the categories that organize media. Below that you may see links to external sites that have been selected by the MEDIAL administrator.
Note: <![CDATA[ ]]>If the coverflow is not enabled, thumbnails of featured media display instead.
For more information: <![CDATA[ ]]>To see how MEDIAL looks on smart phones and tablets, see the topic Using Mobile Devices.
Menu Bar
The menu bar at the top of the page provides access to the main features.
The Home button returns you to the main page from any point.
The Cog button appears for administrators and provides access to the administration site.
The Upload button is present if you can upload media. Clicking it takes you to the upload wizard where you can upload a file or record a clip using a webcam.
The Live Now! button takes you to any live channels that are available.
Tip: <![CDATA[ ]]>If a live stream is currently taking place and you have access to it, the button changes to say On Air.
Help offers guidelines for using the system along with any specifics added by your administration team.
My Account is a drop-down list containing several options for managing your media, updating your account, and managing playlists.
The search box allows you to search for items based on media title, description, tags, contributor, chapter, playlist, or keyword.
Languages
You can change the language MEDIAL uses by clicking the drop-down at the top corner and choosing a different language. The language will be remembered the next time you log into your account. Available languages are shown here: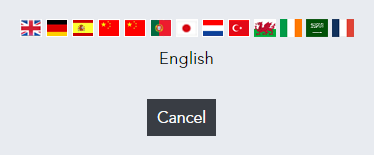 Sidebar
The sidebar shows the categories that you can view, along with contributors and tags. Selecting a category displays all of the content within it. You can sort the list by the date the media was added or by the number of views. Navigate the category using the page numbers or arrows. Open a clip for viewing either by clicking on the thumbnail or the title.
iTunes U
Categories enabled for iTunes U show a link to the iTunes U page of the institution. This provides quick access to content using iTunes. To view the media in iTunes U, click the link at the bottom of the list of clips:

Categories
When you navigate using the Categories, Subcategories, Contributors, and Tags links on the left-hand side, MEDIAL narrows down the media results it displays for you.
Tip: <![CDATA[ ]]>When you select a link, a red cross appears next to it. Clicking this remove the entry from the filter, increasing the number of results.
Breadcrumbs
When navigating MEDIAL, the breadcrumbs at the top of the page show your location in the site. Click the category hyperlinks to navigate quickly to a higher level in the library.